PUBLIC NOTICE
THREE YEAR LEASE BY TENDER ON THE FOLLOWING COUNTY OWNED LANDS 2022-2024
N1/2 Pt. SW 20-54-8 W4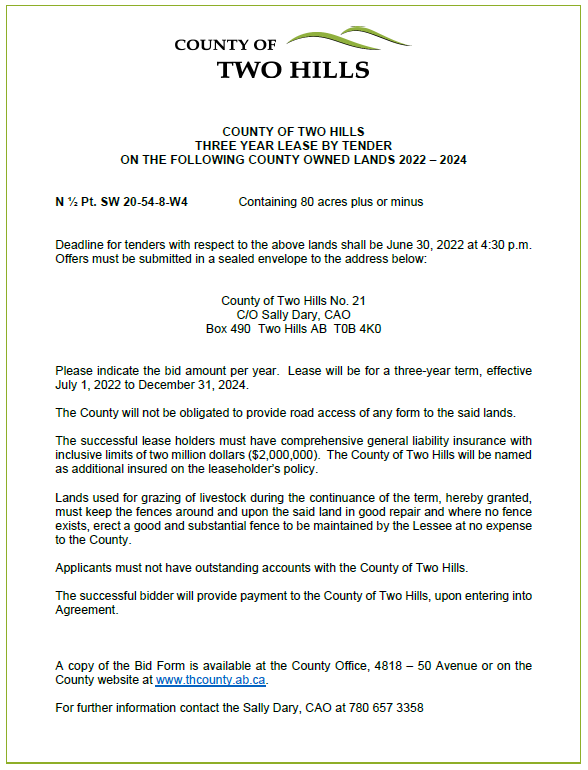 For a copy of the Tender Invitation, click here.
For a copy of the Bid Form, click here.
To be accepted, Bid Forms must be submitted in a sealed envelope, marked confidential, and submitted by mail or in-person to:
Sally Dary, CAO
Box 490, 4818 - 50 Avenue
Two Hills, Alberta, T0B 4K0
Bid Forms submitted by any other means will not be accepted.
---
FIRE RESTRICTION
Please be advised, as of June 14, 2022 at 3:00 p.m., that the County of Two Hills No. 21 no longer has a Fire Restriction in effect. For more information, click here.
---
ROAD BANS
Please be advised that Road Ban Order No. 1-2022 is hereby recinded, having Road Ban Order No. 2-2022 in effect until further notice.
AXEL WEIGHTS FOR COUNTY OF TWO HILLS NO. 21 ROADS, BEING ALL GRAVEL AND OIL SURFACED ROADS (UNLESS OTHERWISE POSTED) ARE 100%.