PLANNING & DEVELOPMENT

Development Officer
Lorrett Tatarin
Email: This email address is being protected from spambots. You need JavaScript enabled to view it.

Office: 780-657-3588
Toll Free: 877-657-3359
Fax: 780-657-3504


Notice of Public Hearing

Municipal Development Plan and Land Use Bylaw changes include: cannabis, changes to subdivision regulations in the Agriculture District, and procedural changes to accommodate amendments to the Municipal Government Act affecting the subdivision and development process.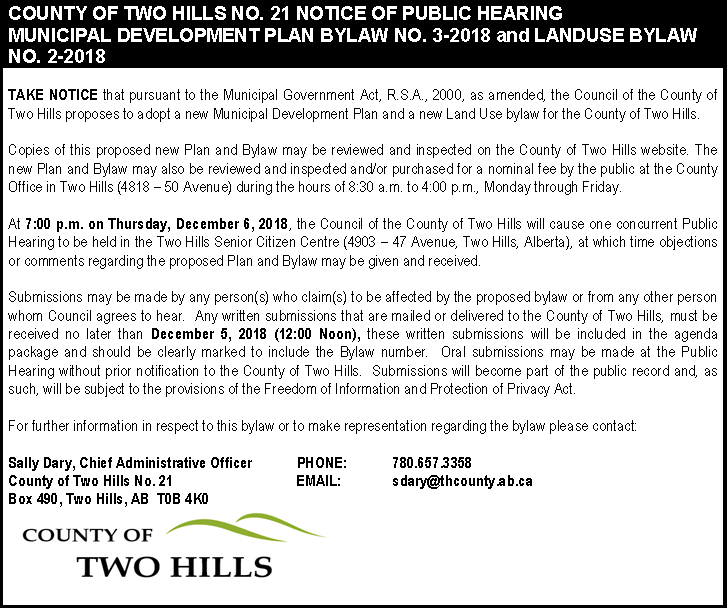 Open a PDF copy of the Notice of Public Hearing here


Land Use Bylaw | Bylaw 2-2018

The purpose of the Land Use Bylaw (LUB) is to regulate and control the use and development of land and buildings within the County of Two Hills No. 21 to achieve orderly, economical and beneficial development and use of land and patterns of human settlement within the Municipality. Bylaw 2-2018 was given first reading the 19th day of September, 2018.


Find out more about the Land Use Bylaw here


Municipal Development Plan | Bylaw 3-2018

The Municipal Development Plan (MDP) outlines a broad set of goal statements about the type of long-term development that is desired by the County of Two Hills No. 21. The main focus of the Municipal Development Plan is to provide policies to assist Council, the County's residents and landowners, and the County's approving authorities in achieving and maintaining orderly and efficient land use and development. Bylaw 3-2018 was given first reading the 19th day of September, 2018.

Find out more about the Municipal Development Plan here


Rural Intermunicipal Development Plans Project

An Intermunicipal Devlopment Plan (IDP) is a statutory policy document that is designed to foster cooperation and ensure that planning and development across municipal borders takes place in an integrated manner without unnecessary costs or negative impacts on either municipality.

Funded by the Province of Alberta, the following six municipalities are working collaboratively to achieve to IDPs for all their shared boundaries:

County of St. Paul
Lac La Biche County
County of Vermilion River
Smoky Lake County
County of Two Hills
Municipal District of Bonnyville

This collaborative project is about achieving strategic and efficient delivery of intermunicipal services and development. It will fulfill recent updates to the Municipal Government Act that requires all municipalities to have IDPs with adjacent municipalities.

Find out more about the Rural Intermunicipal Development Plans Project here